Traxxas Slash 4x4 VXL Brushless TSM (TQi/No Batt or Chg)
TRX68086-4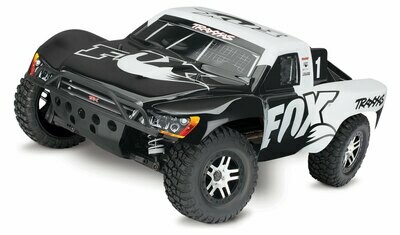 Traxxas RC Cars
Price :
374.17
GBP
In stock
The Traxxas Slash defines the Short Course truck segment and sets the standard for durability, performance, and technology. Innovative features like Traxxas Stability Management (TSM), modular chassis design, and ultra-efficient shaft drive complement Slash's track-tested precision and rock-solid durability. Slash 4X4's extreme Velineon brushless power provides screaming 60+mph speed while the TQi radio system keeps everything under precise control. With just one drive you will see why the Traxxas Slash 4X4 elevates Short Course performance to a whole new level.
Class-Leading Brushless Power
Slash 4X4's Traxxas Velineon Brushless Power system defines a whole new generation of outrageous electric power that doesn't know limitations and boundaries. Pour in the voltage and out comes the speed in tidal waves of force harnessed by precision throttle control. For the uninitiated, prepare yourself... the sheer brutal power combined with the Slash 4X4's four-corner grip results in tire-melting acceleration and lightning fast speed. The Velineon 3s Brushless Power System features system components that work together as an optimized package, from the patented Traxxas High-Current connector to the custom-wound motor. It's engineered together from the start to deliver the ultimate in efficiency, speed, and run-time along with precision throttle response and refined control. It's brushless performance the Traxxas way: wicked fast and easy to use. Just plug it in and it works, no special knowledge or programming skills required.
Precision 2.4GHz Control
Traxxas Slash 4X4 equipped with the world's most advanced Ready-To-Race® radio system. The all-new Traxxas® TQi™ arrives with a full complement of tuning features and offers the unbeatable convenience of "no channels, no crystals" 2.4GHz technology—but that's just the beginning. Automatic model recognition instantly recalls your settings for up to 30 Traxxas Link-enabled models. Just switch on and drive, no naming or "model memory" settings required. Power up the transmitter and the model you want to drive, and the settings for that model are dialed in immediately! The new TQi 2.4GHz transmitter is fully adjustable: steering and throttle end points can be set precisely and the Multi-Function knob can be programmed to control Traxxas Stability Management (TSM), Steering Sensitivity (Expo), Throttle Sensitivity (Expo), Steering Percentage (Dual Rate), Braking Percentage (Dual Rate), or Throttle Trim. TQi's ergonomic case design provides all-day driving comfort, and the unique internal antenna contributes to its sleek, modern look.
Traxxas Stability Management
Traxxas Stability ManagementTM (TSM) allows you to experience your Slash's extreme power, speed, and acceleration by making it much easier to control on slippery surfaces such as loose dirt, smooth concrete, and even ice and snow. Go ahead, punch it off the line! TSM senses the vehicle's direction and makes steering corrections to provide full throttle acceleration without fishtailing or spinouts. When cornering, TSM intuitively corrects the vehicle's line for faster exit speeds. TSM even improves braking by keeping the truck arrow straight until you reach a complete stop. TSM does all this without intruding on driving fun or introducing unexpected side effects. TSM can be fine-tuned (or turned off) for different surfaces by simply adjusting the multi-function knob on the TQi transmitter, or by adjusting the slider in the Traxxas Link app. Drive faster and have more fun with TSM. You may not even realize how much it is helping until you try to drive without it.
Authentic Short-Course Style
Slash 4X4's Race Replica bodies are fully decorated with licensed logos and graphics for total authenticity. In addition to the no. Each truck is equipped with an accurate representation of the full-size tire, giving Slash 4X4 the ultimate in realistic performance and control. Wheels complete the look; offering equal parts style and strength, Slash 4X4 features a new SCT Split Spoke design and color-molded "beadlock" detail. Fully compatible with factory Traxxas and aftermarket tires, the wheels also feature 12mm hexes and the same offset as Slash 2WD rear wheels.
FOX Racing Edition (0)
Vision Racing Edition, #4 (0)
Red (0)
Orange Edition (0)